The Heart of the Matter has asked that we share our school room this week. We do not have a lot of extra space in our current home. We used to school at the kitchen table with supplies all over the house, literally! I finally got tired of running back and forth from room to room to collect everything just to get started. At that time Lulu and Monkey shared a room and Lil was still in the smaller room by herself. We decided to move all three girls into one room and use the smaller bedroom for our school room. For now it works out great! (having all girls made it easier)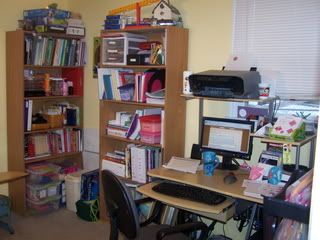 I have two bookshelves that I keep all our curriculum, notebooks, manipulatives, files, etc. on.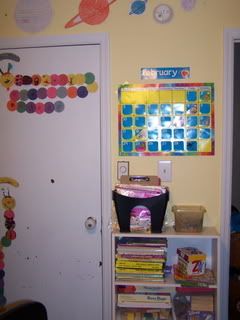 I use the closet door, the bedroom door and all the wall space to display artwork, lesson helps, poems to memorize, scripture to memorize and whatever else needs to be in sight. I use the white cabinet for all our art supplies.



Lil even has her own little desk...which she does not use very often! She is usually on the run and does not have time to sit at her desk. Maybe one of these days......