My students were very excited for their first day a couple weeks ago. I missed the curriculum sharing week so I am going to combine it with this week.

First up is my fourth grader. How is that even possible?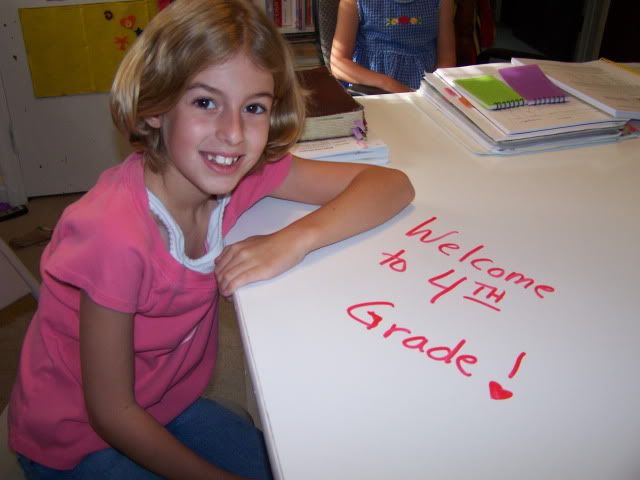 Lulu is becoming quite a young lady. She has a big heart and wears it on her sleeve. Her personality is very giving and compassionate. She rejoices with others and also cries for them. She has often wanted to pray about something for a friend. I am so excited to see what God has in store for her.

Her individual work is listed below:


Bible
- An emphasis on personal devotion
Math - RightStart Mathematics Level E
Spelling - Spelling Wisdom (copywork and dictation approach)
Grammar - Daily Grams 4
Writing - Writing Strands Level 3

Next up is my third grader.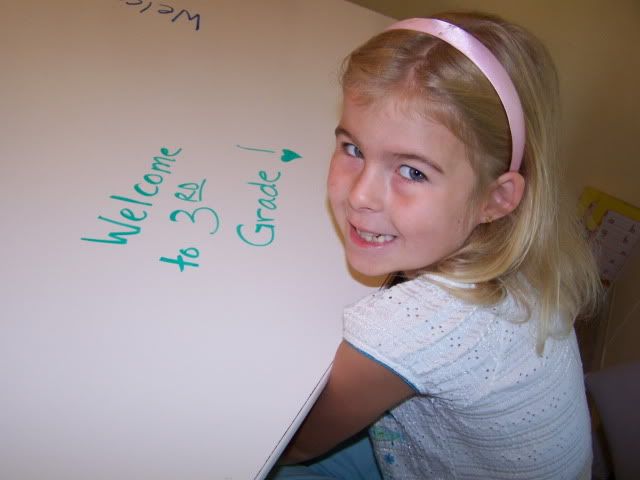 Monkey always has a smile on her face. She loves to laugh. She has been determined from day one to do her own thing. Monkey loves the Lord and she will not be swayed. I know that God will use her in a great way. During prayer time I can always hear her saying her prayers right along with me. She is a hard worker and is not afraid to get dirty.

Her individual work is listed below:


Bible
- Reading through the New Testament
Math - RightStart Mathematics Level D
Spelling - Spelling Wisdom (copywork and dictation approach)
Grammar - Daily Grams 3
Writing - Writing Strands Level 2

Lulu and Monkey do a lot of work together as well. Here is their combined work:

History - We are going to use a unit study approach this year. I started out with the four year Classical cycle. Last year I switched to Ambleside Online and our cycle got a little off. I am going to try to get back on the four year cycle this year with unit studies. We are starting out with a small unit to finish up the Colonial period. The girls are preparing individual reports and one together. I'm looking forward to seeing what they come up with.

Geography - Minn of the Mississippi and Paddle to the Sea (Both books are by Holling C. Holling. We read three of his books last year and the girls loved all of them. They were excited to start Minn this week.)

Literature Readings - Robinson Crusoe, Kidnapped, The Incredible Journey, The Legend of Sleepy Hollow, Paul Revere's Ride, and Rip Van Winkle (Selections taken from Ambleside Online)

Biographies - Poor Richard and Abigail Adams: Witness to a Revolution

Science - It Couldn't Just Happen (Give facts that support creation and disprove evolution) and a focus on physics this year

Spanish - Let's Speak Spanish workbooks

Poetry - Alfred Lord Tennyson, Emily Dickinson, and William Wordsworth

The girls will also have gym, art, Keepers of the Home, creative literature, science units, and choir at our co-op.

Last, but not least, is our preschooler.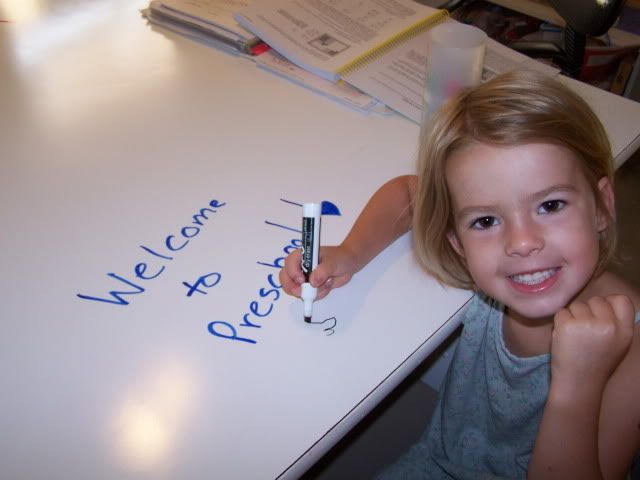 Lil adds a lot of spice to our family. She is Lulu and Monkey all mixed into one. She has qualities that link her to both her sisters. Lil wants to learn so bad. She complains that I don't have enough planned for her to do and her sisters complain that she gets more free time than they do.

I am planning to do a mixture of things with her this year. We did not finish our ABC notebook last year. That's first up. And then we will see. I had wanted to have more planned out for her by now, but it just did not happen.


Thanks for stopping by! I hope you have a great year.