We have Missionettes and Royal Rangers at our church on Wednesday night for the kids. They are both really great programs. My husband is a commander for 3-5th grade boys and I am a leader for the Friends Club, 6-8th grade girls. We had an awards ceremony this past Wednesday.

Lulu and Monkey are in the same class this year, Prims. They have a different unit each month. They earn their badge by going to class, memorizing scripture and doing their class work. The girls love this program. Next year Lulu will graduate to Stars. They have both graduated from Rainbows and Daisies with honors. We are really proud of them.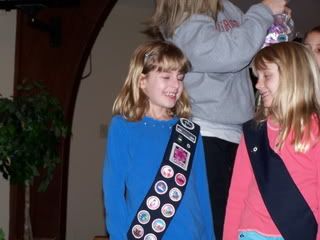 Lil is in Rainbows. This was her first awards ceremony. She was so excited to get her animal badges. I can't wait to see her smile when she sees them on her vest.



It was a busy night. We also had our Valentine's Day parties in our classrooms and our annual Hop-A-Thon. The girls get sponsors to raise money to help pay for all the badges and charms that they earn throughout the year. We play music and the girls see how many times they can hop in 15 minutes. I have a picture of Lil hopping. I have to alter one of the older girls and then I will add it.


It was a fun night. We love our church. God has really blessed us with some wonderful men and women in the Lord to help shape and teach our children. We are very thankful for each one of them.