I say that with mixed emotions. Lil is 3 today. She is still so soft and cuddly but definitely not a baby. Lil is the typical third child, or at least I think she is after talking to many parents of 3. She is outgoing, very funny, always up for something new, and ever so sly
. Lil adds so much adventure to our lives. Some days I'm not very happy with the type of adventure... but it is adventure none the less. For example, you remember the pantie flushing, the time she stuck a CD in the computer -- not the CD drive, actually inside the computer, the multiple times she has painted on parts of her body rather than paper, coming out of the bathroom only half dressed ---- at church!, and her latest adventure happened just two days ago, she flooded the bathroom. The list could go on and on.

Even though she can be a tad rotten at times, she is still a sweetheart. I lost a baby between Monkey and Lil. At that time we found out that I have endometriosis and my doctor was not sure how easy it would be to have another baby. When I look at Lil I am reminded of the faithfulness of my God. He blessed us with her and she is nothing short of it. We are blessed to have Lil in our family.


Lord I thank you for Lil. She is such a sweetie. She never ceases to bring a smile to my face. Thank you for choosing me to be her mommy. Help me to raise her to serve You, to become the woman You created her to be. Show me how to shape her character. You knew just what James and I needed by giving us Lil. I give You praise for her health. She is Yours Lord. In Jesus' name, Amen.


Lil's birthday is extra special because it is Daddy's birthday too!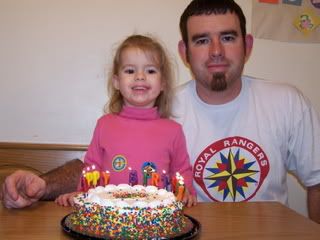 I am so thankful for this man. God saw my heart and He gave me exactly what I wanted. James is a wonderful husband. He loves me even though he knows me. He works very hard for our family and so I can be home with our girls. He is the leader in our home. When it comes to being a Daddy, well, he is the best! Our girls know he loves them because he tells them multiple times each day and backs his words up with his actions. They have no room for doubt. And they are all three Daddy's girls. If they have to make a choice between us, it is hands down Daddy. And that is okay with me. I know how secure their futures will be because of their relationship with him.


Happy Birthday my sweet Lil!
Happy Birthday Daddy from all your girls!