Oh how I wish I had everything ready...

It is so hard to believe that we are this close to Christmas. We have lots of birthdays this time of year as well as all the Christmas things. So life here is busy. The girls had their Christmas program at church last week. Tonight and Sunday night they are singing in the Adult program too. Next weekend we have a Christmas party in Louisville, then Christmas weekend at home and the last weekend of December will be Christmas in Ohio. Add a few birthdays in there and two the first week of January and we are pretty wiped out. I was able to get a pretty decent picture of them last week after their program.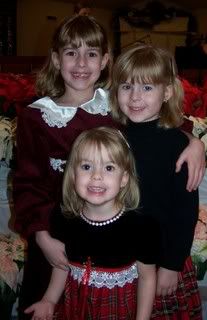 They all three did such a good job during their programs. The older girls sang and played bells. Lil sang, did lots of little motions and then had to make a dramatic exit to the bathroom
! I was just glad she did not pee on the stage.