We were able to go camping a few times in the spring and early summer. Now it is too hot for me to tent camp
! Our family really enjoys camping. The girls sleep so well it amazes me. I think they get so worn out for all the hiking and exploring that they do. We went to Natural Bridge both Mother's Day and Father's Day weekends. Here we are at the top of the bridge. I still think it is awesome that my 7 and 5 year olds will hike as far as they do. They even have their own camel backs....so they are carrying water, snacks, a notepad and colored pencils on their backs. Go girls!!!
Just ignore the sweaty mom in the photo!
My husband is the trooper though. He leads us fearlessly up the trails all with Lil spilling water down his neck, reaching for leaves on trees and falling asleep only to become dead weight.
Our campsite that we get is right on the creek. I think this is the highlight of the girls' weekend.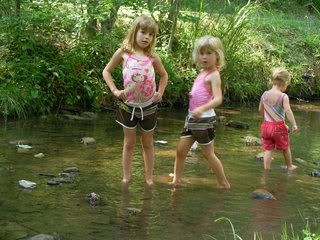 Now we just have to wait for fall.........